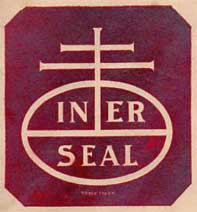 National Biscuit Company (Nabisco), the food processing company was founded in New Jersey in 1898 and began marketing cookies and crackers. Oreo cookies hit the US market in 1912 and have been a bestseller ever since.

In 1985, R.J. Reynolds bought out Nabisco in a leveraged buyout (See Barbarians at the Gate) before being sold off to Kraft Foods. Freemasons refer to masonry as "the Craft".
Tobacco giant Philip Morris bought Kraft Foods in 2000 and spinned it off into a different company, Mondelēz International, in 2011.
The antenna-like logo was first used for the company's now discontinued Uneeda Biscuits. The IN-ER SEAL was a reference to the interfolded cardboard which kept the cookies fresh.